Legends National Cup Update
Games start in Del Mar at the Legends National Cup at 8:00 12/16 and the last games are at 1:30 pm on 12/17. Schedule will go out Wednesday.
Legends National Cup Team Hotel
Reservation Dates: December 15, 2017 - December 17, 2017
Cut-Off Date For Booking Reservations:  Friday, November 24, 2017
Cancellation Policy: Are accepted before or by 6 pm, 7 days prior to date of arrival. If cancellation is within 7 days, 1 night's room and tax deposit will be taken from the credit card on file.
Deposit: 1 night's room rate and tax 7 days prior to arrival.
Rate:     $99.00 + tax - Two Queen Beds
Otherwise, they can call the Front desk at 1-800-777-6055 to make their reservations, by telling them they belong to the Utah LC - Legends National Cup.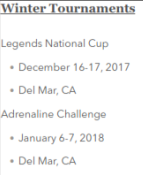 TEAM INVITES HAVE GONE OUT. PLEASE MAKE SURE THEY ARE NOT IN YOUR SPAM/JUNK FOLDERS
---
10/19/17
2022, 2023, 2024 - Practice 10/21 & 10/27 @ Draper Park Middle School
10/21 - 4:00 pm to 5:30 pm
10/27 - 5:30 pm to 7:00 pm
Rendezvous Tournament - 10/28/18- Farmington (Legacy Events Center)
---
10/17/17
Outdoor Practices
11/4/17 - Galena Hills Park, Draper 4:00-5:30 pm
11/11/17 - Galena Hills Park, Draper 3:30-5:00 pm
Indoor practices are as follows at the U of U Fieldhouse (8 total). Dates and times will be added to the calendars.
10/4/17
We would like to thank all the players (and parents that got them there) that came out to Tryout #1 and #2 for Utah LC.
The weather wasn't always nice to us but the players showed us that a little cold and rain didn't bother them and competed hard.
The turnout was amazing and your support was overwhelming. We can not thank you enough.
Now it's our turn to take all this information and assemble what we feel are very competitive teams for the winter tournaments.
Please watch your emails over the next 10 days for further information.
Thank you Again For All Your Support !!!
Tryout #2
September 30, 2017
Salt Lake Regional Athletic Complex
2021, 2022, 2023, 2024 - 6:00-7:30 pm
2018, 2019, 2020 - 7:30-9:00 pm

 Utah LC Flyer 2_001.png 
Register now
UTAH LC TRYOUTS - September 23rd and September 30th
Salt Lake Regional Athletic Complex
2024, 2023, 2022, 2021 - 6:00 pm - 7:30 pm
2020, 2019, 2018 - 7:30 pm - 9:00 pm
Although we are currently under construction, tryout registration is now live. Click on TRYOUTS to register.
Please stay tuned for a whole new look. We have moved to a whole new platform.
You will need to create a new account when registering for the first time on our new platform.
Secure Registration Homepage of the Utah Lacrosse Club, powered by LeagueApps